Arthur Duff
Tookoonooka 8P_Tuttle, 2019, neon, rope, transformer, electric cables, variable dimensions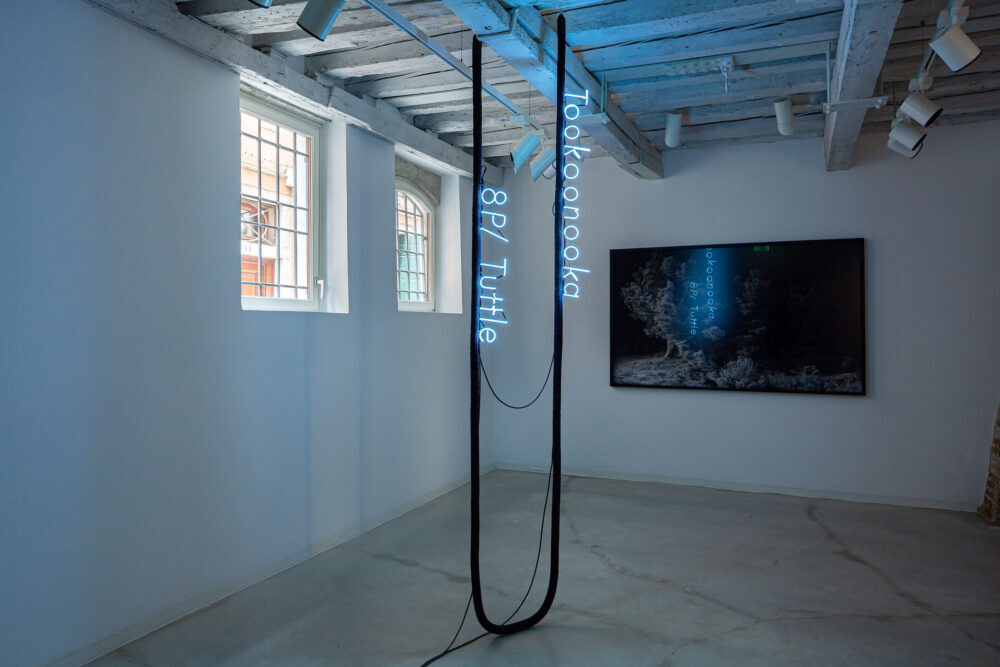 Bodies without points of view, 2018, neon, rope, transformer, electric cables, variable dimensions

Gaslight still burns – Some portal – Excite zombie gases – Light edges, 2018, neon, rope, variable dimensions

No Plot, 2016, lava stone, red neon, rope, variable measures

Zeroth, 2017, lava stone, polyester rope, polish, 45 x 53 x 42 cm

Fragment_M51, 2012, polyester rope and iron frame, 50 x 50 x 8 cm

Nera Luce_Dust in my eye, 2017, Polyester rope and wooden framework, diameter 140 cm

Gravity_Gravity, 2017, Polyester rope and wooden framework , diameter 140 cm

Parallax View_Yellow on Yellow, Yellow on Red, Yellow on Blue, 2017, drilled paper on PVC, 34 x 34 cm each

Red Vein, 2016, lava stone and red neon, variable dimensions

Fragment_M10, 2015, Black polyester rope and black iron framework, 160 x 160 x 12 cm

Parallax view, 2012, drilled gray paper, 70 x 100 cm

Dust, 2015, polyester twist and violet neon, variable measures

Endings, 2015, lava stone and red neon, variable measures

Fragment_M55, 2015, black and green polyester rope and alluminium frame

I dreamed a dream – Chapter 2 (group show), curated by Domenico De Chirico, Marignana Arte Venice, May – September 2020

EVIDENCE(D) – A High Level Perception (group show) curated by Stefano Coletto, Domingo Communication, Milan

Bodies without points of view, site specific installation, Ospedaletto Con/temporaneo – Scala del Sardi, Venice

Reagents (group show), curated by Daniele Capra, Ospedaletto Con/temporaneo – Farmacia, Venice

Bodies without points of view, 2018, site specific installation, San Benedetto church, Conversano

Art and Business: roads to innovation (group show), curated by Lucia Longhi, Ca' Giustinian dei Vescovi, Venice, October 2018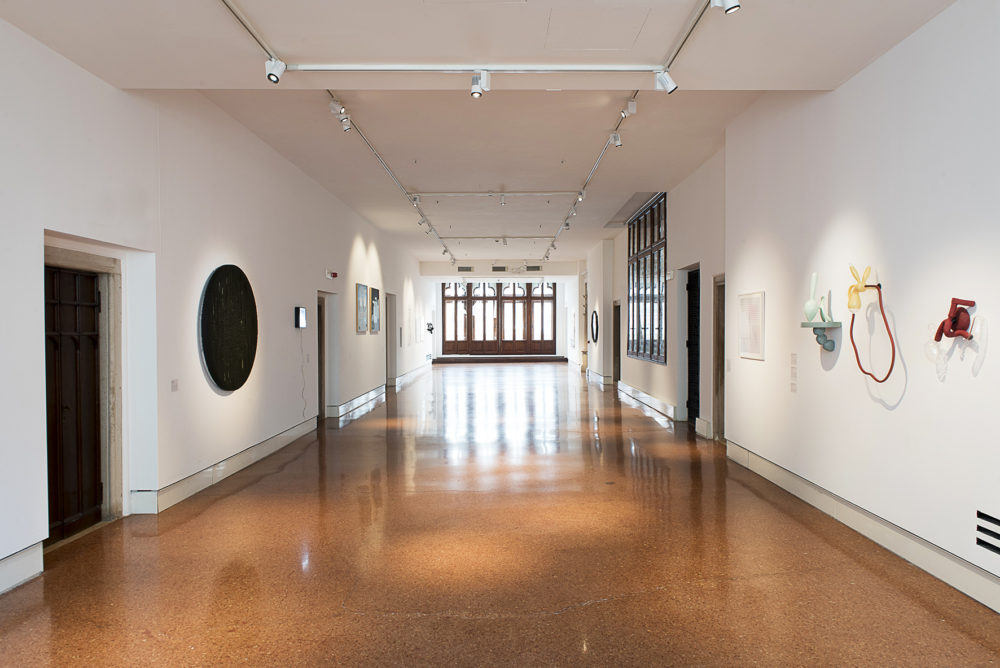 Lo spazio ritrovato (group show), curated by Daniele Agostini, Borgo e Parco Schrerrer, Morcote (CH), June 2018

Contempo, site-specific installation, Castello Aragonese, Taranto, June 2018

E-merging Nature (group show), curated by Ilaria Bignotti and Federica Patti, 17th February – 5th May 2018, Marignana Arte, Venice

The hidden dimension Chapter II (group show), curated by Ilaria Bignotti, 10th May – 9th September 2017, Marignana Arte, Venice

Things with endings, curated by Francesca Pola, 26th September 2015-16th January 2016, Marignana Arte, Venice
Watch the video of  the exhibition on Youtube and Vimeo

La Finestra sul Cortile. Scorci di collezioni private (group show), curated by Luca Massimo Barbero, 23rd November 2016-26th February 2017, GAM, Milan

The Muse (group show), 30th August-23rd October 2016, Whanki Museum, Seoul (KR)

Proportio (group show), curated by Axel Vervoordt ana Daniela Ferretti, 9th May-22nd November 2015, Palazzo Fortuny, Venice

Synopses, 2013, laser site specific, variable measures, Villa della Torre Allegrini, Verona

Temi e variazioni. Scrittura e spazio, curated by Luca Massimo Barbero, 15th October 2011-1st January 2012, Peggy Guggenheim Collection, Venice

Arsenale di Iseo, Plot Hunters con Donzelli, Duff e Marchetti Lamera, Roberto Lacarbonara, Espoarte, April 2022
I dreamed a dream. Il secondo capitolo dalla voce del curatore Domenico De Chirico, Francesco Fabbri, Espoarte, August 2020
Venezia, arte contemporanea e Coronavirus. Quattro gallerie tra incertezza, azioni e reazioni, Carolina Vecchi, Artslife, June 2020
Arte contemporanea Giugno 2020: 5 mostre LIVE, Alice Traforti, ART post Blog, June 2020
I dreamed a dream in mostra. L'arte riparte dal sogno, Silva Menetto, La Nuova Venezia, June 2020, download
L'agenda delle mostre da vedere a giugno, in tutta Italia, Silvia Airoldi e Carlotta Marelli, ELLE DECOR, May 2020
Il coraggio di ripartire. Immagini delle due mostre inaugurate a Venezia da Marignana Arte, Massimo Mattioli, Artslife, May 2020
La galleria Marignana riapre con due mostre, Veronica Tuzii, Corriere del Veneto, May 2020, download
Arthur Duff at Domingo Communication, Milan: press review, download
Tre artisti per il Press Day di Domingo Communication, Gaia Tonani, Exibart, November 2019
EVIDENCE(D) – A High-Level Perception, ATPDiary, November 2019
EVIDENCE(D): UNA NUOVA PERCEZIONE DELLA MODA, CrisalidePress, November 2019
Art Night Venezia – 22 giugno 2019, Martina Cappellesso, Nonsolocinema, June 2019
Ospedaletto Con/temporaneo. Nuove visioni con Reagents e Duff, Livia Savorelli, EspoArte, June 2019, Download
Mostre & Co.: Da vedere a Venezia.. Oltre alla Biennale, Nicola Maggi, Collezione da Tiffany, May 2019
I palazzi veneziani aprono le porte alla Biennale Arte 2019, Ivana Godnik, Rai News, May 2019
Reagents. Le tensioni tra corpi di Newton ispirano la potente collettiva al Complesso dell'Ospedaletto di Venezia, Francesca Morelli, ArtsLife, May 2019
Dicotomie apparenti, Davide Silvioli, Small Zine, July 2018, download
Parole al neon: Cult+ presents Arthur Duff at Morcote, watch the video
Raid-Corleone: l'Arte come rinascita dalla mafia in diretta streaming, Valentina Piuma, Artuu, June 2018
La contro-Manifesta? A Corleone. RAID porta il contemporaneo nelle terre della mafia, Artslife, June 2018
Arthur Duff " L'arte è anche luce nasce con il fuoco e racconta la vita", Antonella Marino, La Repubblica, May 2018
Tra natura e artificio. Una collettiva a Venezia, Roberta Vanali, Artribune, April 2018
Nasce la Biennale di Shenzhen. Nel polo high-tech in Cina 5 artisti italiani, Claudia Giraud, Artribune, March 2018
E-merging Nature, Sonia Braga, AD, February 2018
A Venezia torna il weekend delle gallerie, Arianna Testino, Artribune, February 2018
Arte contemporanea Febbraio 2018: le mostre da non perdere, Alice Traforti, The Art Post Blog, February 2018
Fino al 9.IX.2017 – The Hidden Dimension – Chapter II – Marignana Arte, Venezia, Chiara Vedovetto, Exibart, September 2017
The Hidden Dimension capitolo II. Quelle dimensioni nascoste dell'opera, Igor Zanti, Espoarte, July 2017
"The Hidden Dimension – Chapter II" at Marignana Arte, Mousse Magazine, June 2017
La top 10 delle gallerie d'arte a Venezia, Ginevra Ludovici, Meme Cult, June 2017
Biennale: 20 appuntamenti imperdibili, Micaela Zucconi, Style Magazine, May 2017
Flow, arte contemporanea cinese e italiana in dialogo, Sonia Braga, AD, April 2017
Raid | Museo per Piccioni. Una libera incursione artistica per risignificare l'abbandono, Juliet, March 2017
La mostra La finestra sul cortile Scorci di collezioni private, Benedetta Bernasconi, Marie Claire, November 2016
Interferenze materiche. Arthur Duff a Venezia, Arianna Testino, Artribune, January 2016
Arthur Duff, Things with endings Marignana Arte, Venezia, Elisa Beraldo, Exibart, December 2015
Proportio a Venezia miglior mostra dell'anno 2015. Le migliori foto dell'esposizione, Artslife, December 2016
Arthur Duff approda a Venezia, Sky Arte, January 2016
Il teorema della luce. Arthur Duff, la forma del futuro, Mariachiara Marzazi, VeneziaNews, November 2015
Villa Pisani e il Progetto Arte Contemporanea, Enrico Dusi, Domus Web, May 2015
La forza della luce di Arthur Duff per Atelier Les Copains, Matteo Galbiati, Espoarte, April 2015
Vervoordt Foundation, Fondazione Musei Civici di Venezia Will Examine 'Universal Proportions' in Venice Biennale Show, Hannah Ghorashi, Artnews.com, February 2015
La light art di Arthur Duff illumina la Biennale di Venezia, Fogli d'arte, May 2013
Arthur Duff e la sostanza della luce. Sul Canal Grande, Simone Rebora, Artribune, May 2013
Duff punta un laser su Palladio, Marica Rossi, Il Giornale di Vicenza, June 2012
Arthur Duff al MACRO, Andrea Goffo, Vogue Italia, March 2011
Arthur Duff was born in Wiesbaden in 1973. After living in the United States, where his parents are from, he went to Korea, Germany Japan and settled down in Italy. He currently lives and works in Vicenza.
Arthur Duff nasce a Wiesbaden nel 1973. Dopo aver vissuto negli Stati Uniti, patria dei genitori, in Korea, Germania e Giappone, si stabilisce in Italia. Attualmente vive e lavora a Vicenza.
AWARD
2010/2011 MACRO 2% contest (winner with Rope)
2000 Prix Whanki Exhibition, London – Venice – Seoul,winner 1st prize Biennial Museè Whanki, Seoul, Korea
SOLO SHOWS
2022
Light Cycles, traveling project, curated by Valentina Ciarallo, Rome/Catania/Naples/Parma/Turin/Verona
2019
Bodies without points of view, Scala del Sardi,  Complesso dell'Ospedaletto, Venice
2018
Bodies, site specific work, San Benedetto church, Conversano
Learning how to see in the dark, site specific work, Castello Aragonese, Taranto
2017
Flat all the way down, Studio La Città, Verona
2016
Gorged on Pebbles, Atelier Les Copains, Milan
Scatter, Studio La Città, Verona
2015
Things with endings, Marignana Arte, Venice
L'enigma di Duff, Perlartecontemporanea, Lugano
2014
Synopsis, Villa della Torre, Fumane (VR)
2013
Precious Objects – Extraordinary Individuals, Palazzo Malipiero and garden, Venice
2012
From a good absorber to a good emitter, site-specific work, Museo di Castelvecchio, Verona
Arthur Duff – Niele Toroni, Villa Pisani Bonetti, curated by Francesca Pola, Bagnolo di Lonigo, Vicenza
Sintax Parallax, Oredaria Arti contemporanee, Rome
Somewhere Parallel – Alterate Visioni, Ars Now Seragiotto, Padua, with Francesco Candeloro
2011
ROPE, MACRO, Rome
Silence / Definition, Perlartecontemporanea, Lugano
2010
STONEWALL.WHITEWASH, XIV Biennale Internazionale di Scultura di Carrara | Eventi Paralleli, F65, Marina di Carrara
Synopses, MACRO, Rome
Spin Series, curated by Valentina Ciarallo e Pier Paolo Pancotto, Complesso Santo Spirito in Sassia, Rome
2009
In Hiding, Studio La Città, Verona
Love Letters for MACRO, MACRO, Rome
2008
Borrowing You, Castefranco Veneto (TV)
2007
Of love and hate, Galica, Milan
2002
Space, text by Luca Massimo Barbero, Galica, Milan
2001
Stern-um, Whanki Museum, Seoul, Korea.
2000
In side out, LOFT arte, Valdagno (VI)
GROUP SHOWS
2022
PLOT HUNTERS, curated by Ilaria Bignotti, Fondazione l'Arsenale di Iseo, Iseo
2021
Arthur Duff, Between space and surface, curated by Riccardoi Caldura, Magazzini del Sale, Venice
2020
I dreamed a dream – Chapter 2, curated by Domenico De Chirico, Marignana Arte, Venice
Video, M9 Cloisters, Mestre (VE)
2019
Reagents, curated by Daniele Capra, Complesso dell'Ospedaletto, Venice
Viaggiatori sulla Flaminia – Alfabeti, Rocca Albornoz, Spoleto (PG)
Evidenced – High Level Perception, curated by Stefano Coletto, Domingo Communication, Milan
2018
RAID – Manumission Motel, Bologna
Lo Spazio Ritrovato, curated by Daniele Agostini, Scherrer Park, Morcote (CH)
Enigma da Visao, Museo de Arte de Cascavel, Cascavel (BR)
E-merging Nature, curated by Ilaria Bignotti and Federica Patti, Marignana Arte, Venice
Ka-Huna, curated by Leonardo Regano, former Church of San Mattia, Bologna
2017
RAID – Museo per piccioni, Bologna
RAID – Sfornare Mondi, Milan
Variazioni sul tema, Galleria A. Verolino, Modena
Summer Show, Studio La Città, Verona
The Hidden Dimension Chapter II, curated by Ilaria Bignotti and Clarissa Tempestini, Marignana Arte Venice
Attorno a Tiziano. L'annuncio e la luce verso il Contemporaneo. Garofalo, Canova, Fontana, Flavin, curated by Luca Massimo Barbero, Centro culturale Candiani Mestre
Flow. Arte italiana e cinese in dialogo, curated by Maria Yvonne Pugliese and  Peng Feng, Basilica Palladiana, Vicenza
Curitiba Biennal – Antipodes. Diverse and Reverse, Oscar Niemeyer Museum, Curitiba
2016
La finestra sul cortile. Scorci di collezioni private, curated by Luca Massimo Barbero, GAM, Milan
The Muse, Whanki Museum, Seoul, South Korea
Scatter and Coopereate, MATtam, il Cubo, Mantova
Gorged on Pebbles, Atelier Les Copains, Milan
Scorched or Blackened, Fuori Salone event, Università La Statale, Milan
Variationes, 10 Corso Como Shanghai Gallery, Shanghai
Summer show, Studio la Città, Verona
2015
Essere è Tessere, Fondazione Stelline, Milan
Proportio, Palazzo Fortuny, Venice
Black. An Idea of Light, Cortesi Gallery, Lugano
2014
BAG, Bocconi Art Gallery, Università Bocconi, Milan
2013
La Grande Magia. Opere scelte dalla Collezione UniCredit, curated by Gianfranco Maraniello and Walter Guadagnini, MAMbo, Bologna
Rosa Piero, Rosa Tiepolo, Rosa Spalletti, Rosa…, curated by Marco Meneguzzo, Studio la Città, Verona
2012
Guardandoci Intorno, Museo di Castelvecchio, Verona
Somewhere parallel / Alterate visioni, Associazione Culturale Ars Now Seragiotto, Padua
Bocconi Art Gallery, Università Luigi Bocconi, Milan
Aveamen, Studio Laboratorio 2729, Venice
2011
Temi e variazioni. Scrittura e Spazio, Peggy Guggenhein Collection, Venice
In the Meantime (Nel frattempo..), Valeggio sul Mincio (VR)
Anteprima, Oredaria Arti contemporanee, Rome
2010
Nota Bene, BirchLibralato Gallery, Toronto
There is light that never goes out, Galica, Milan
No Fear Beyond This Point, Galica Arte contemporanea, Milan
Bocconi Art Gallery, Bocconi University, Milan
2009
Bunker, C4, Centro contemporaneo Cultura Caldogno, Caldogno (VI)
Arthur Duff, Arcangelo Sassolino, Alicia Martin, Galica, Milan
Transparency – Arthur Duff, Jenny Holzer, Julian Opie, Jaume Plensa, Stephan Reusse, Ulla Rauter, Public Art in Prague during the EU presidency, Prague
2007
… e ricomincio da tre, Studio la Città, Verona
La parola nell'arte. Ricerche d'avanguardia nel '900. Dal futurismo ad oggi attraverso le collezioni del MART, MART Rovereto
2006
New Code, Studio la Città, Verona
Nell'aldilà dei pesci, MART, Rovereto
2005
Il Nodo Parlante, curated by Luigi Meneghelli, Studio La Citta`, Verona
Sotto la superficie, Fabbrica del Vapore, Milan
Ambaradan, Tra arte e non arte, Villa Velo Valmarana, Velo d'Astico (VI)
2004
Italian Feeling, XIV Quadriennale of Rome, curated by Luca Massimo Barbero, Rome
Orange, Galica, Milan
2003
Obsession, Galica, Milan
Il Palazzo Delle Libertà, Centro d'arte contemporanea Le Papesse, Siena
2002
Autori Tratti Italiani, Gallerie Costiere di Pirano, Galleria Civica di Pirano (SLO)
2001
A me gli occhi, please, Villa G. Trissino, Vicenza
Con cuore, Spazio Juliet, Trieste
2000
Natura Morta, Villa G. Trissino, Vicenza
2000 Prix Whanki Exhibition, London – Venice –Seoul
Progetto AURORA, LOFT arte, Valdagno (VI)
1999
83.ma Mostra Collettiva Bevilacqua La Masa, Fondazione Bevilacqua La Masa, Venice
Progetto AURORA, LOFT arte, Valdagno (VI)
Please Disturb! arte in contemporanea, L'Officina, Vicenza
Disegni e.., Isola Vicentina (VI)
Autori Tratti Italiani, Fondazione Bevilacqua La Masa, Venice
Produzione Resistente, Fabbricato in Italia, L'Officina, e Palazzo Carminati, Museo Virgigliano, Mantova
CONTAMINAZIONI, Teatro Astra, Vicenza
Biennale Giovani Artisti dell'Europa a del Mediterraneo, Rome 1999 – Sarajevo 2001
1998
10×10 L'Officina, Vicenza
Cantieri Aperti, Città di Padova Gallery, Padua
Supermercarte, PAM, Mestre
L'Officina, A, Fabbricato in Italia, Perugia
Frozen, L'Officina, Vicenza
82.ma Collettiva Bevilacqua La Masa, Fondazione Bevilacqua La Masa, Venice
Emergenza Nuove Immagini Under 28, LAMeC, Laboratorio per L'arte Moderna e contemporanea, Basilica Palladiana, Vicenza
1997
Bellum, Centro culturale Santa Maria delle Grazie, Mestre (VE)
81.ma Mostra Collettiva Bevilacqua La Masa, Venice