Alessandro Diaz de Santillana
R13, 2016, mix media, 109,2 x 81,7 x 4 cm

R15, 2016, mix media, 90,2 x 101,5 x 4 cm

B2, 2018, mix media, 94,5 x 89,3 x 4 cm

B3, 2018, mix media, 84,2 x 90,3 x 4 cm

B1, 2018, mix media, 103,6 x 102 x 5,5 cm

R18N, 2017, 91,2 x 95,2 x 4 cm, Hand-blown and slumped glass. Marino plywood, gold and black laquer

Z05, 2016 – 101,4 x 92 x 4 cm, R16N, 2017 – 88,2 x 97,8 x 4 cm, Hand-blown and slumped glass. Marino plywood, gold and black laquer

Untitled, 2014, Digital print on Hahnemuhle paper, 113 x 90 cm

R-17, 2016, Hand-blown and slumped glass. Marino plywood and black laquer, 69, 7 x 89 x 4 cm

R6, 2014, Hand-blown and slumped glass. Marino plywood and gold laquer, 78,2 x 109 cm

Z003, 2016, Hand-blown and slumped glass, 102,2 x 92 x 4 cm

Alessandro Diaz de Santillana. La profondità va nascosta. Dove? Alla superficie (solo show), curated by Ilaria Bignotti, Marignana Arte project room, Venice, 2018

W.W.W. – What Walls Want (group show), curated by Ilaria Bignotti, Marignana Arte, Venice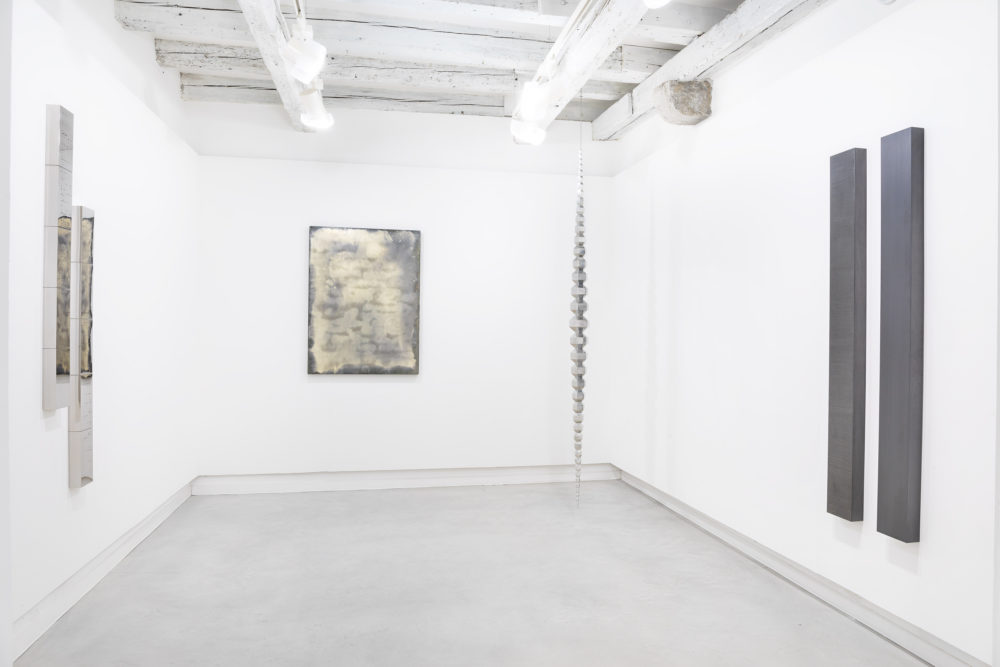 Hour-Glass, curated by Giorgio Mastinu, 7th April-21st June 2014, Marignana Arte, Venice

Laura De Santillana e Alessandro Diaz De Santillana, 2nd May – 6th September 2015, Yorkshire Sculture Park, Wakefield (UK)

I Santillana, 19th November 2014 – 29 March 2015, MAK Vienna

I Santillana. Opere di Laura De Santillana e Alessandro Diaz De Santillana, 6th April – 3rd August 2014, Stanze del Vetro, Venice
"W.W.W. – What Walls Want" and Alessandro Diaz de Santillana "The depth must be hidden. Where? At the surface" at Marignana Arte, Venice, Mousse Magazine, August 2018
Venice – Not Only Biennale – Marignana Arte – Alessandro Diaz de Santillana – The Depth Must Be Hidden. Where? At the surface. – Art, Nally Bellati, Contessanally, June 2018
Non solo architettura. A Venezia c'è anche un festival di design. Si chiama Design.Ve, Ginevra Bria, Artribune, May 2018
Art cities: Venice-W.W.W. What Walls Want, Efi Michalarou, Dreamideamachine, May 2018
Dal muro all'opera. Undici artisti a Venezia, Arianna Testino, Artribune, May 2018
Laura De Santillana and Alessandro Diaz De Santillana, Chapel, Yorkshire Sculpture Park, Rachel Spence, Financial Times, July 2015
Alessandro Diaz de Santillana, glass artist: 'I first considered being a painter, but glass has a smell', Karen Wrigt, The Independent, July 2015
The Interview: Laura and Alessandro Diaz de Santillana, Jesc Bunyard, Hunger, May 2015
Un dialogo nel vetro. I Santillana a Venezia, Simone Rebora, Artribune, April 2014
Alessandro Diaz De Santillana was born in Paris in 1959. He died in Venice in 2018.
Alessandro Diaz De Santillana è nato a Parigi nel 1959. E' morto a Venezia nel 2018.
SELECTED EXHIBITIONS
2016
Wunderglas, Schloss Ambras, Innsbruck, AU (catalog)
2015
I Santillana at YSP, Yorkshire Sculpture Park, UK (catalog)"Trésors de sable et de feu. Verre et Cristal aux Arts Décoratifs,xive xxiesiècle", Musée des Arts Décoratifs, Paris, F
Collettiva, Galleria Marignana Arte, Venezia, I
2014-2015
I Santillana, MAK Museum, Vienna, AU
2014
Hour Glass, Galleria Marignana Arte, Venezia, I
I Santillana, Le Stanze del Vetro, Isola di San Giorgio, Venezia, I (catalog)
2012
Scapes, MoG, Museum of Glass, Tacoma, WA, USA (catalog)
2011
Mercury, Traver Gallery, Seattle, WA, USA (catalog)
2010
Textures and Reflections, Traver Gallery, Tacoma, WA, USA
2009
La Biennale di Venezia, 53. Esposizione Internazionale d'Arte, Padiglione Venezia, Venezia, Italia – Sanske Galerie, Zurich, CH
2008-2009
Licht und Gold, Galerie Proarta, Zurich, CH
2008
Sanske Galerie, Lucerne e Zurich, CH
2007
Vetri d'Artista, a cura di Rosa Barovier, Fondazione Maria Pernici Antica Vetreria, Centro Studi Val Rendena, Carisolo, I (catalog)
2006
Eine Welt aus Glas, Kunst und Design im Herzen Europas, Barockschloß Riegensburg, AU
2005
Vetro e Scultura, 20 Artisti interpretano Venini, chiesa di Sant'Agostino, Pietrasanta, I
2004-2005
Vetri nel Mondo Oggi, Istituto Veneto di Scienze Lettere e Arti, Venezia, I (catalog).
2003
Venice a Touch of Glass, Italian Cultural Institute, London, UK
2002-2004
Le Opere e I Giorni, progetto a cura di Achille Bonito Oliva, Certosa di Padula, Salerno, I
2002
Glass Way, Museo Archeologico, Aosta, I (catalog)
2001
Paul Hughes Fine Arts, London, UK – Venini, Glass & Design, Museo Italo Americano, San Francisco, CA, USA, e The Mingei International Museum, San Diego, CA, USA
2000-2001
Late 20th Century Sculpture, The Corning Museum of Glass, New York, USA
2000
Handmade: Shifting Paradigms, The Singapore Museum of Art, Singapore (catalog)
1999
Introduction to Contemporary Glass, Duane Reed Gallery, Chicago, IL. – St. Louis, MS, USA – Galleria Blanchaert, Milano
1998-99
Venezia Aperto Vetro, Palazzo Ducale, Venezia, I (catalog)
Monumental Sculptures, Bryan Ohno Gallery, Seattle, WA, USA (catalog)
1997-99
The Glass Skin, Hokkaido Museum of Modern Art, Sapporo, Shimonoseky City Art Museum, Shimonoseky, Museum of Fine Arts, Gifu, J – The Corning Museum of Glass, NY, USA; Kunstmuseum Düsseldorf, Kunstammlungen der Veste, Coburg, D (catalog)
1998
Sky and Water, R.B. Stevenson Gallery, La Jolla, CA, USA. Glass Sculpture, Ledbetter-Lusk Gallery, Memphis, TN, USA
1997
Arrivals, Elliott-Brown Gallery, Seattle, WA, USA
Vis Alchemica, University Art Gallery, University of California, San Diego, CA, USA
1996
Venezia Aperto Vetro, Museo Correr, Venezia, I – Vetrophanie, Palazzo Ducale di Colorno, Parma, Italia (catalog). Contemporary Art Center, Utrecht, NL
Gli Artisti di Venini 1921-1985, Fondazione Giorgio Cini, Venezia, I (catalog)
1995
Ledbetter-Lusk Gallery, Memphis, TN, USA
New Glass, Studio d'Arte Barnabò, Venezia, I
1994
'Preferirei di no' – Cinque stanze fra arte e depressione, a cura di Achille Bonito Oliva, Museo Correr, Venezia, I (catalog) – Cardini, Villa Glisenti, Brescia, I (catalog), Cardini, Magazzini del Sale, Cervia, I (catalog). – Société Martell, Cognac, F Palazzo Casati, Piacenza, I
1993
Galleria Blanchaert, Milano, I
1992
Un caso di trasparenza, Circolo degli Artisti, Faenza, I
1985
Art du Verre, Musée des Beaux-Arts, Rouen, F – Glasspanels, Galerie Gerard Laubie, Paris, F
Galerie Scremini, Parigi, F
1984
Venini: The Spirit of the Moment, Heller Gallery, New York, NY, USA
1983
Giovani Designers Europei, ICSID, Milano,